Upstairs salon featured in pasadena star news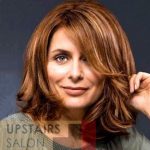 If you love your hair and you always want to look your best, you should be talking to Upstairs Salon in Pasadena. According to Pasadena Star News, you are possibly looking at the best hair salon in Pasadena. Upstairs Salon is the brainchild of Marina Bluvband, who has been doing hair for a long time. The article in Pasadena Star News says that she makes sure all her stylists "listen first, and cut later." For her, it is more important that a stylist understand what a client wants than to just go ahead and give them what you think they would like to have. Marina says, "Communication is the key to the best look for you."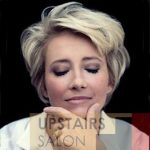 She maintains that she keeps a small shop because she wants to make every client feel special – it is hard to do that if you have a big salon that has many clients in at the same time. Marina says that her aim is to make every client feel like a celebrity, and in fact they do, as we see from many of the reviews that she has received. She says that for her and her stylists, each time they work on a client's hair, they work as hard as they would if it were the first time for them to handle that client. What this means for you is you don't have to worry about anyone in Upstairs Salon treating you with complacency; each time you get your hair done, you will receive the kind of treatment that will make you want to come back again.
At Upstairs Salon we do not  cater only to women's hair. There are stylists who are also trained to give the best men's haircuts in Pasadena. They come with the same level of professionalism and training as all our stylists and you can expect that they will listen to you and that they will do your hair in a way that will set off all your other features. They are also skilled at giving the best women's haircuts in Pasadena. Indeed, many reviews from people who have had haircuts done here say it is the best hair salon in Pasadena.
What kind of hair does upstairs salon deal with?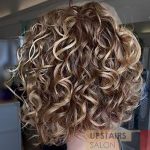 This is an important question for you to ask yourself, especially if you have hair that is delicate and that is difficult to manage. Thankfully, Marina has made sure that she caters for all kinds of hair by having hair specialists with different skills. You will get a thin hair specialist, a thick hair specialist, a curly hair specialist, and a wavy hair specialist. This does not mean that all they do is wait for people with these kinds of hair to come in; they are skilled in doing other kinds of hair but they specialize in these particular areas. These specialists also know how to do the best hair coloring in Pasadena on all kinds of hair.
Who else says Upstairs Salon is good?
Here are some of our reviews, and these are only from Google+. There are many other 5-star reviews with many pleased customers.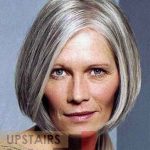 "I was looking for a new hair stylist as my friend who used to take care of my hair went back to France. I found Marina's salon using Google and made an appointment. I was not disappointed! I absolutely LOVE my haircut. Marina listened to what I wanted and did an outstanding job! She knew exactly what needed to be done with my hair. I couldn't be happier and I'm very happy I found my new hair stylist!!! "
"Marina has done for my hair what no stylist before her has been able to do. My wife says it is the best haircut I have ever had, and I agree. She is meticulous, a true master of her craft." This is from Aaron Kitch, who enjoys the best men's haircuts in Pasadena from Upstairs salon.
Maybe it's time you gave yourself and your hair a treat; call Upstairs Salon and see how you feel about what they can do for your hair!