OVER 20 YEARS OF EXPERIENCE AND INNOVATION
Meet Marina Bluvband, the force behind one of the best hair salons in Pasadena, Upstairs Salon. For many years, Marina owned Salon de Hairways – the
hair salon inside the Pasadena Hilton complex. She developed a loyal clientele including many celebrity clients. A few years ago, she moved her hair salon to
99 South Oak Knoll Avenue in the Pasadena Playhouse District. It's now called Upstairs Salon for its location, on the SW corner of Oak Knoll and Green Street.
Marina continues to grow in dedication and skills, and, according to her longtime clients, is now better than ever!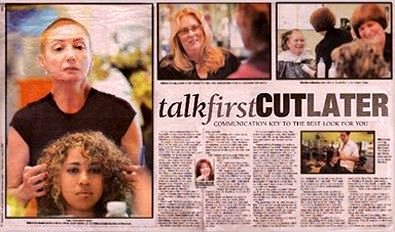 A FEATURED PASADENA HAIRSTYLIST
Why has Marina been featured in leading Pasadena publications and is continually a favorite among Pasadena's most distinguished, fashion-conscious consumers? In short, she simply knows what it takes to make people look and feel their best. Marina combines professional attention to details of her craft with a European sense of style and communication-focused sensibility to deliver fresh looks that bring out the best in her clients, exceeding their expectations.
Marina Bluvband is a trusted and talented Pasadena hair stylist specializing in fashion-forward precision cuts, colors and salon services for women and men. With over 20 years of elite hairstyling experience in the most popular, upscale hair salons in Pasadena, her distinctive skill and attention to the latest trends has set her apart as a leading local stylist earning her a loyal following and solid reputation.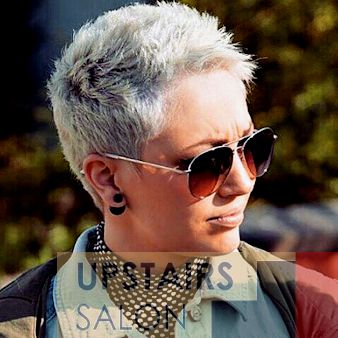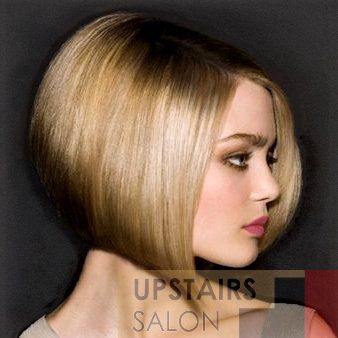 DO YOU AGREE WITH MARINA'S PHILOSOPHY?
For Marina, the atmosphere and the setting of the salon are very important. She advises anyone looking for a new salon to visit and look around. Is there loud music, or a lot of clutter? Are the chairs comfortable and in good condition? Are the prices comparable to other salons? Marina prohibits loud music so that it is more relaxing for the customer, which she believes is where stylists should place their focus. Upstairs Salon is one of the most exclusive salons in Pasadena, and we treat each client with great professionalism and skill, yet at very reasonable prices. So what is our secret?
According to Marina, it is pretty straightforward. She understands people like to be treated well, and like they are special, and when it comes to both women's and men's hair, you cannot overlook this. Marina explains, "Every time someone comes into our salon, we do our best." According to her interview featured in the Pasadena Star News, she makes sure everyone feels special by keeping a small shop. A small shop can only take so many clients at once, which means her stylists
take time to focus on every client and treat them like a celebrity.
BEST HAIR SALON FOR WOMEN AND MEN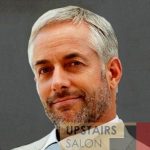 Upstairs Salon is great for all kinds of hair treatments you may need. And it is not exclusive to just women; we do the best men's haircuts in Pasadena. The men get to enjoy the same royal treatment the women do. We also do the best haircuts for women in Pasadena and if you need more than just hair color, you are in the right place. Upstairs Salon is among the best hair coloring salons in Pasadena.
One of the ways Marina maintains the quality of hair care is by making sure she recruits people who are already trained and then teaches them on the job how to be a good Upstairs Salon stylist. She has all kinds of experts working with her. You will find thick hair specialists, thin hair specialists, wavy hair specialists, and curly hair specialists. All these stylists can handle ordinary hair but they come with the added gift of being able to handle what might sometimes be called problem hair.
One thing she teaches all her stylists is that the most important thing a salon specialist can do is listen. She knows that the only way to make her clients happy is to make sure she understands what they need. She also takes some time to teach her hair specialists how to find out the condition hair is in by learning a little history from the client. This way, they can design treatment regimens to correct anything that may have damaged hair in the recent past.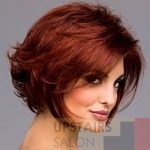 All of Marina's employees also understand different products and study which ones are best so they can suggest them to any clients who may need them. So is Marina really as good as people say she is? And is Upstairs Salon the place to go when you are looking for the best haircut in Pasadena, the best hair coloring in Pasadena, and any other hair work you want done? Here's what one client, Callie Cardamon of Pasadena says:
"The Upstairs Salon is a very relaxed and peaceful place, right in the heart of Pasadena. Marina does amazing things with color and also gives superior haircuts. She's had years of experience and is a very caring woman who takes the time to find out exactly what you want. Do yourself a favor and make an appointment. The prices are very reasonable."