99 S Oak Knoll Ave, Pasadena, CA 91101
Upstairs Hair Salon on Green Street Pasadena, CA
Get the best women's and best men's haircut, hair color or hair treatment in Pasadena CA – Feel like celebrities!!!
Welcome to Upstairs Salon where you will get our full attention whether you want a haircut or hair coloring treatments because we never double-book guests! We celebrate more than two decades of making local Pasadena residences look and feel beautiful and refreshed. Our carefully chosen and talented team receives frequent training in the latest beauty trends and products. We always strive to make your salon visit the best part of your day and invite you to experience the difference that Upstairs Salon can offer.
Our customers mean the world to us. That's why we stand by each service with a steadfast guarantee: We won't allow you to leave our salon until you're totally satisfied!
PRICE LIST
WOMEN'S HAIRCUTS FOR SHORT HAIR
$55
WOMEN'S HAIRCUTS FOR MEDIUM HAIR
$60
WOMEN'S HAIRCUTS FOR LONG HAIR
$65
COLOR FOR SHORT HAIR
$55
COLOR FOR MEDIUM HAIR
$60
COLOR FOR LONG HAIR
$65
HIGHLIGHTS BEGIN (BLOW-DRY INCLUDED)
$115+
MEN'S HAIRCUTS
$40
WE SPECIALIZE IN CAMOUFLAGE COLORS FOR MEN
$40
PERMS SHORT HAIR (HAIRCUTS INCLUDED)
$110
PERMS LONG HAIR (HAIRCUTS INCLUDED)
$145
KERATIN TREATMENT (CONSULTATION FIRST)
By Appointment Only – We accept cash and checks only*
*To keep our prices reasonable, we have no costly, fee-based merchant account for credit card purchases
Find out why we're Pasadena's best hairstylists
Our founder and owner, Marina Bluvband, featured in an interview with the journal Voted Best Hair Salon in Pasadena, Upstairs Salon offers the best hairstylists, best haircuts, hair color and hair treatment for men and women, with celebrity service at reasonable prices.
Marina Bluvband + Upstairs Salon have great 5-star reviews in the press and around the web.
They specialize in precision haircuts for best results with every kind of hair… thin, thick, wavy, straight or curly.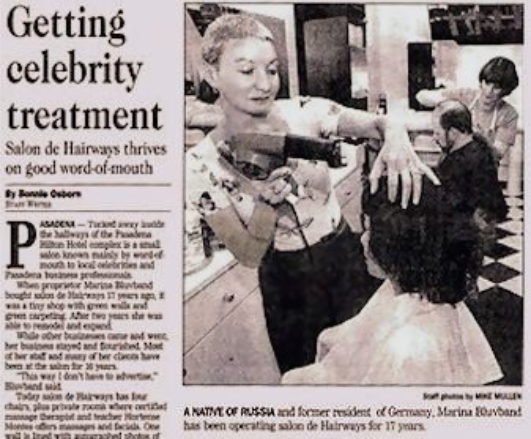 LOOK FABULOUS WITH THIS BEAUTY SECRET
Call us now and get PRECISION HAIRCUT (626) 796-3646
I feel so lucky to have found a hairstylist as caring, thorough and professional as Marina. She has kept my hair up-to-date and looking its best for over 10 years. I am a perfectionist, and while some other professional services in my life have disappointed me (doctors, lawyers, manicurists, printers, etc.), I know I can always count on the consistently excellent work of my hairstylist! Whether coloring, or highlighting, or shaping a new haircut to fit me perfectly, Marina is my best professional resource. A real treasure!

Kelly J

Marina at the Upstairs Salon is the most wonderful hairdresser I have ever known. Last June I had a horrific hair situation done by someone else, and she has since transformed my hair into what I am supposed to really look like, and it is really right. I feel absolutely great now. She is an absolutely expert precision hairdresser, a true artist. She created a hairstyle that suits me... not just a trend seen in a magazine... she gives you the hairstyle that fits you perfectly. I have never felt so good, so confident, so happy with my hair.

Marjorie Roseen

I happened upon Marina at Upstairs Salon by accident. I work in Pasadena and was looking for somewhere in Pasadena I could get my hair cut on my lunch hour or after work without driving too far or waiting too long. I decided to try Marina, and I'm glad I did. I am a 39-year old attorney whose job demands that I look professional. Marina does that perfectly, but does it in a way that is not boring. She gives me a haircut that keeps me looking professional, with just the right amount of ``coolness`` - just enough, but not overdone.

Lawrence Yang

It's important, in my opinion, to get a second opinion on your hair style at least once a year. I had the good fortune of finding Marina at Upstairs Salon after seeing a friend who had the coolest hair cut and style. I immediately called and booked a consultation followed by a hair trim and restyling with Marina. I have gotten so many compliments!!!!!! I can't say enough good things about my experience. I don't think I will need to be looking for a second opinion anymore.

Kathy Terrazone

I looked all over town, and beyond Pasadena, for someone who could deliver a personalized style for my curly hair, that would look great when I styled it, and as it grew out. Cheap cuts, expensive cuts, moderately-priced cuts, I was massively dissatisfied with all of them. Then -- I found Marina. She surpassed herself on my latest cuts. It's short, sassy, flattering and stylish, and looks great when I style it.

Stephanie C

Reviews throughout the web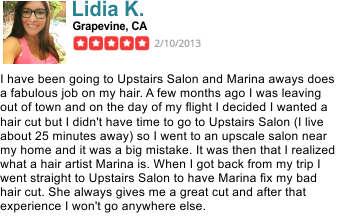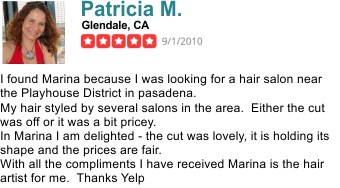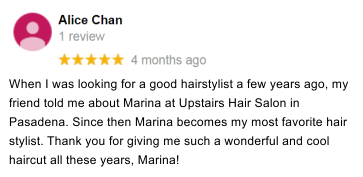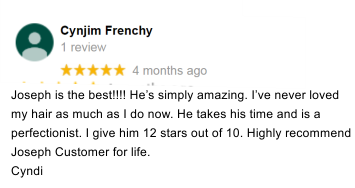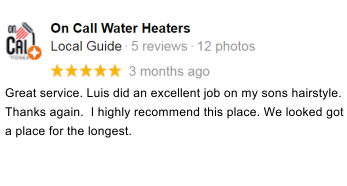 According to Upstairs Salon's, precision stylists must follow one single principle: listen first and cut later. Marina Bluvband has understood that the key to getting the best look for our clients is to listen to them first.
That is why every stylist at Upstairs Salon will take the time to understand not only what you want done with your hair but also a little about its history and its current condition. That way, not only do we do our best to help you look good, we also make sure we nourish your hair using the best treatments.